| Categories: [ Others ] Tags: [ Website ]
How Web Scraping eases my job searching pain? - Part I : Scrape contents from one URL
Update : 2018-05-06

I have found that the website structure of Indeed, Monster, Dice, Careerbuilder have been changed since I wrote these posts. So, some of my code may not work now. But, I think the concept and the process is still the same.
---
The Github repository for this project : choux130/webscraping_example.
The process of finding jobs online can definitely be a torture. Every day is started by sitting in front of computer, browsing different kind of job searching websites and trying to track every job I have read and then categorizing them into interested or not interested. The whole process is mostly about clicking on different pages and websites, copying and pasting words. At first, you may have enough patience to read and track about 50 or more jobs a day, but when time gets long, you start to feel depressed and feel like yourself is just like a robot. If you have this same kind of experience, you are welcom to check out this post and see how I use automated web scraping techniques in Python 3.6.0 to make my job searching process easier, more efficient and much more fun!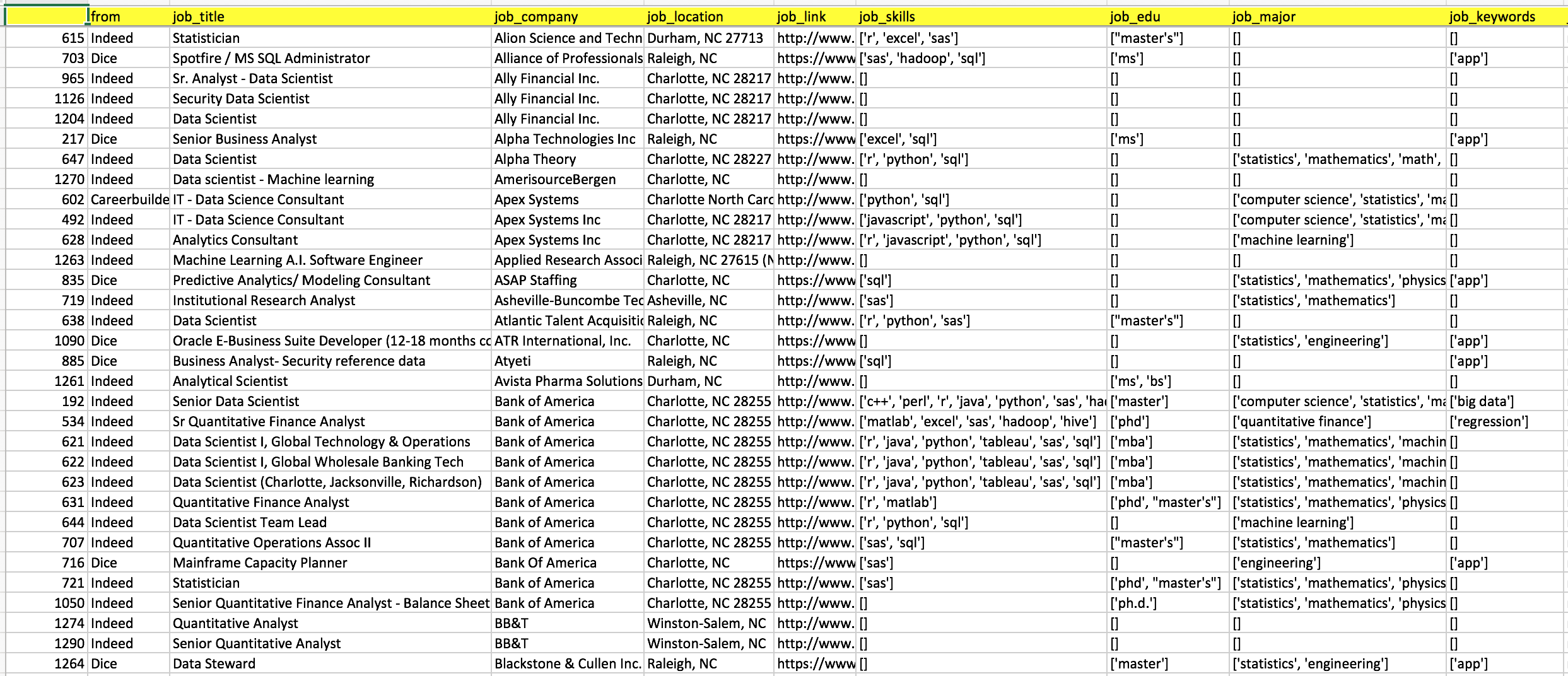 This is just a quick look for one of my final output which was automatically generated by running the Python code. The good thing for this sheet is that I can have a big overview for all the job searching results with their required skills, education level, major and self-interested key words. So, I can easily prioritize the jobs and only focus on ones I think I can be a good fit. Compared to clicking all the job link one by one on all the job searching websites, it really not only saves me a lot of time for the first screening but also make me healthier in mental which to me is the most important thing! If you also think this sheet can be a good idea for your job searching process, please keep reading and grab anything worthy to you.
If you are not a Python 3.6.0 user or only know little about it, don't worry! Before I did this project, I also know nothing about Python and I just learned by doing. You can find all the example code in my Github repo - webscraping_example. My code may not be the most perfect but it works well on me.
Details